Poland-ness


Woot, so I've been in Poland for a little longer than a week now and I'm already homesick. Annie, I've written you a 4 page long letter already. I'm not sure when I'm gonna mail it. I may just give it to you when I get back. Right now I'm stealing internet from Lukasz and Asia's apartment (it's so pretty! XD). I've been so internet deprieved it's not even funny. Seriously. I've been having withdrawals. It ain't pretty. Blood and carnage everywhere. Pretty much Armageddeon (too lazy to check spelling). Anywho, it's awesome here. Better than America. And they have McDonalds everywhere! It's like the American Embassy! It's wonderful! We stopped at one for lunch in Krakow and Diana and I were like 'The homeland! *kisses the cashier*'. So yeah, I'm having fun here, but I really miss you guys T.T. I should have brought you guys with in an extra suitcase or something. I made a friend! Ola! She's awesome! And she's smarter than all of us. O.O Except maybe Phillip... Anyways, we're about to eat. I'm writing lots and lots so I'll have everyone read that when I get back. Gotta go! Byes!

(> ")>
Jenny
Itachi's Birthday! And A New TEMPLATE!!!!
So, I'm finally paying attention to my blog again. Woot! and I've given it a new template because this one is so effin' cute it makes me want to vomit. In the good way. Do you see the little music thing on the side?! It plays the midi version of Haruka Kanata, the second Naruto opening! You love it, don't you? DON'T YOU?!!?!?!?!? @_X *CRAZAH EYE!*
So Anywho, if you've read my LJ, you'd know about the cake baking and the candle getting and the randomness in honor of Itachi's birthday. Bleh! I don't feel like going into it again. But I will post the randomness. Or some of it.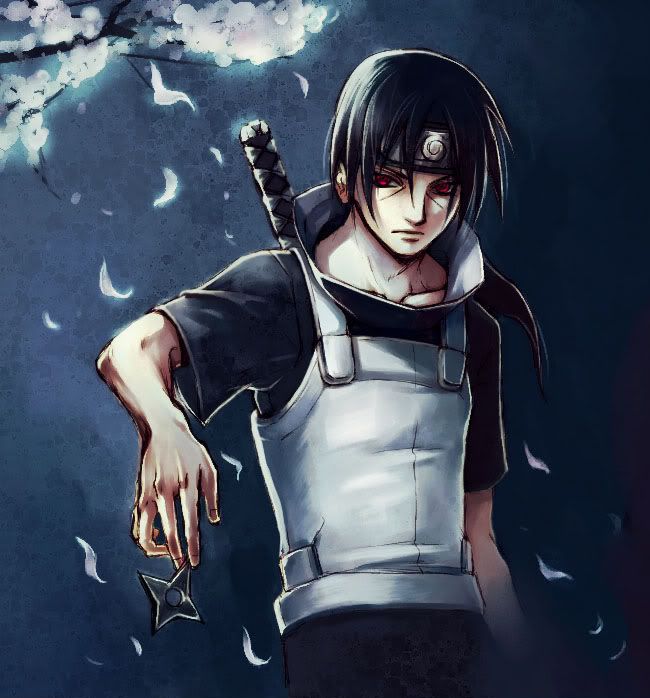 Here Endith the Postage. WOOT!
(> ")>
Jenny